[De]Constructed Cloth, 2019.
Mixed-fibre textile, mirror, bobbin. Cyanotype, print, dye and hand stitch.
Inspired by visits to thriving textile firms across West Yorkshire and to the archives at Sunny Bank Mills in Farsley near Leeds, Hannah made connections between the heritage of cloth production and present day textile manufacturing. In the archives, heavy-bound ledgers, dating back over a century, resonated with looped piles of cloth in modern-day weaving mills.
[De]Constructed Cloth uses complex, layered and deconstructed imagery, presented in sculptural form to represent the changing fortunes of the UK textile manufacturing; literally the 'rise and fall' of the industry. The length of cloth mimicking the manner in which cloth passes through multiple finishing processes in the mill. Ghostly prints of unpicked cloth fragments and waste fibres sourced from local weaving mills, represent the dismantling of industry, while renewed hope for the future of our local industry is suggested in waste fibres re-made into new cloth wound around an old wooden bobbin.
Scroll for more images & info>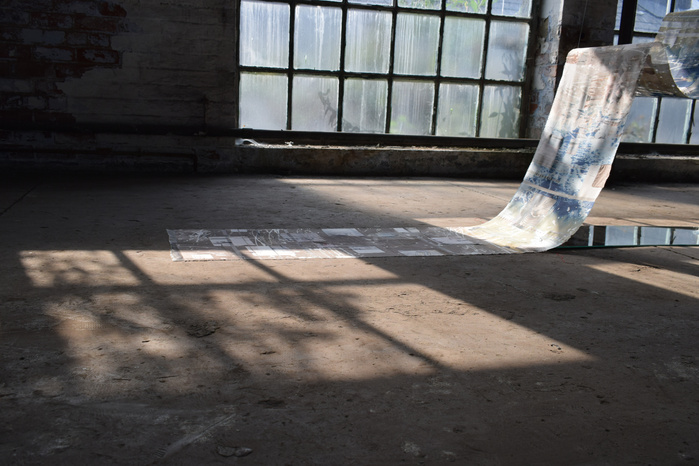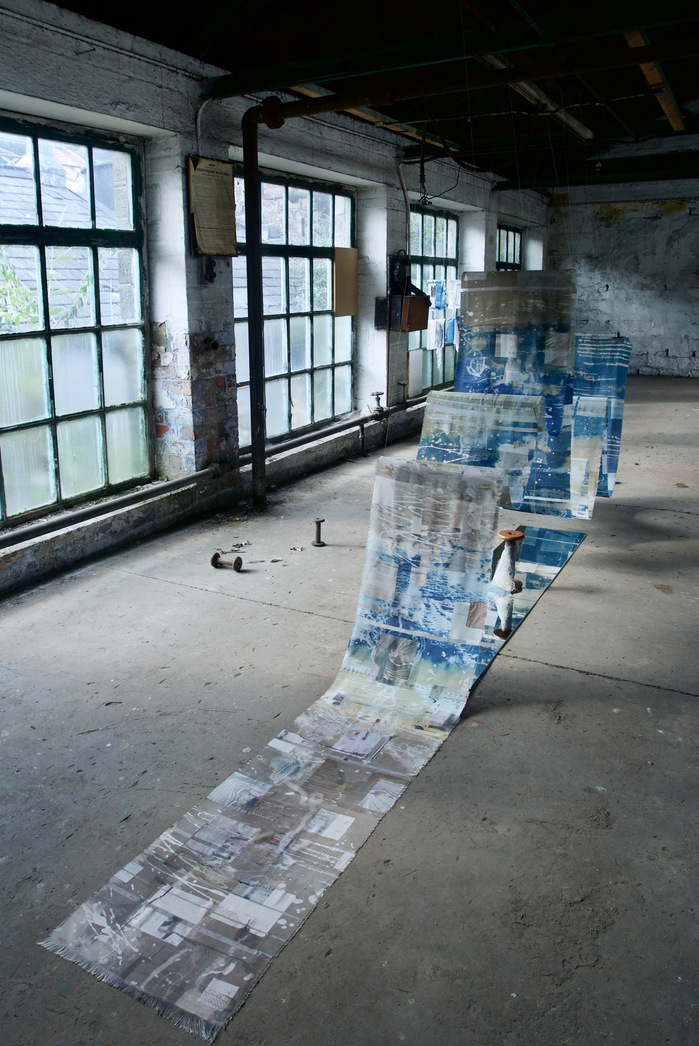 "Inspired by a reference to the rise and fall of West Yorkshire's textile industry, the piece physically parallels that movement as it undulates in the space. In so doing, it recalls diagrams of textile machines in which material is fed over and under rollers as it is being processed. Such machines may once have been in this mill, if not this actual room. The end of [De]constructed Cloth sits on the floor, the one echoing the other as if they merge together. Be sure to walk around it if you ever have the chance to see it."
June Hill in Embroidery Nov/Dec p.53.
[De]Constructed Cloth was first exhibited in 'CONSTRUCT' with The 62 Group of Textile Artists at Sunny Bank Mills Gallery, West Yorkshire 20 July to 15 Sept. 2019.