Draft, 2015 (installation)
Cyanotype, hand stitch, tracing paper, silk.
In the Bradford Textile Archive one brown archival box represents the working life of Bradford textile designer Mr George Arnold Stead (1893-1975). Working for Lister's Mills in Bradford, these documents represent his personal record of designs created during a lifetime in textiles. The box also contains mementos and pamphlets from the mill.
Contained in notebooks and lengths of graph or 'point' paper are numerous designs for woven textiles represented in technical weave notation as 'drafts' and 'lifting plans'. As an embroiderer I see this notation in a very different way to weavers; without the specialist knowledge to interpret the designs, the squares and grids become pure pattern, reminiscent of cross-stitch designs.
For this work, a length of Mr Stead's point paper designs is interpreted as a 'ghost' of the original, stripped of its original meaning. The use of stitch references the largely forgotten manufacture of sewing and embroidery threads in Bradford, of which Lister's was a world leader before the 1930's. As the cyanotype print was taken from the stitched paper onto silk, once again the image looses clarity and becomes a mere memory of the original designs.
Scroll for more images >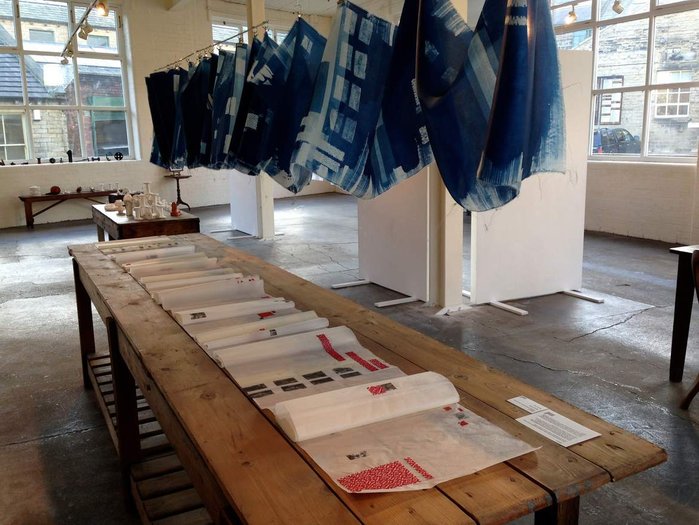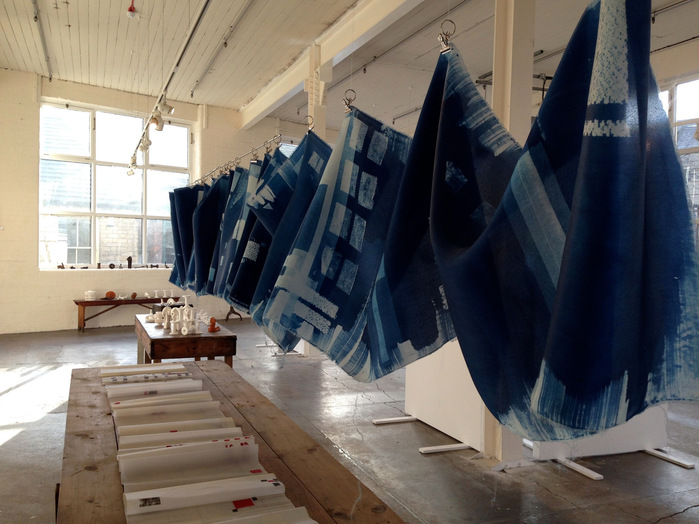 Draft was developed in conjunction with the Bradford College Textile Archive and commissioned for 'Bradford Pick & Mix' in 2015 at the Dye House Gallery, Bradford College. The work was also shown in 'Material Evidence' (shown here) at Sunny Bank Mills, Farsley, nr. Leeds.
Work developed with thanks to:
Bradford College Textile Archive
Arts Council England